Another week, another fresh crop of tiny house news. Here, we catch you up on the standout projects you should know.
Gee, this French tiny house is cute! Designed and built by Baluchon, the 220-square-foot Odyssey model is full of appealing features like large triangle windows, rustic-chic kitchenette with fold-down table, and clever built-in shelving and storage. Want one? That'll be $49,000, s'il vous plaît.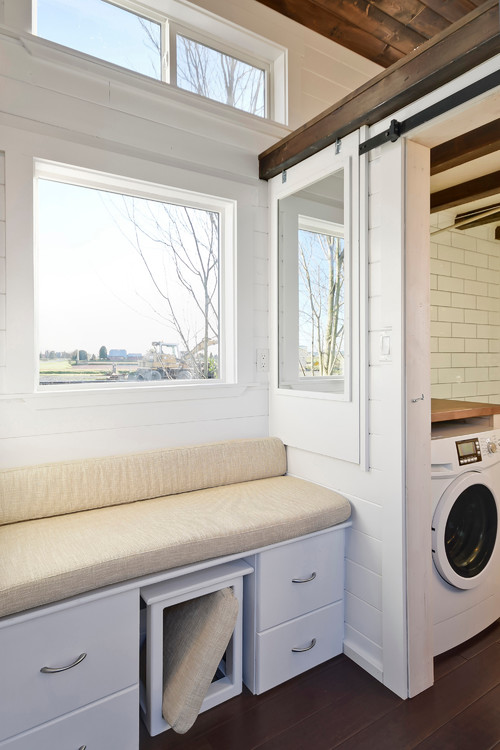 Houzz recently profiled a Loft model from Canadian builder Mint Tiny Homes, and we're pretty impressed by design details. Note, for example, the small-space ingenuity above, where a bench window seat/storage area can become a small workspace with a pull-down desk (that is, the white panel on the wall with a mirror, which helpfully brings in more light and makes the space feel bigger when in the upright position.)
It's not everyday you see a tiny house with a whimsical, well-crafted exterior and a name like Tree-cycle to boot. Parked in Austin, Texas and available for rent, the Tree-cycle fits a queen bed, mini kitchen, couch, and bathroom with toilet and shower. Can you tell it was built by a furniture maker? Check out all the wood details.
Designed and built by a home performance expert, this 200-square-foot home showcases some rad custom features, including a dining loft and computer station. Named #TinyLab, the home was actually built for a cross-country tour to raise awareness about how testing home performance measures like energy efficiency can ensure meaningful home improvements.
Well, this is just gorgeous. Built by San Diego, California's Zen Cottages, this model flaunts a dreamy window seat, bar seating at the kitchen, and French doors to the deck. The builder's vision is a "permafarm" with tiny homes and community-grown food to share—more on that here.